Well, it is again time for Menu Plan Monday, brought to you by
Laura
. I am trying several new recipes this week--I guess I will have to come back and rate them at the end of the week. Oh, and I don't have pictures of each meal, but I will try to post a couple.
Monday: Beef Burgandy with noodles, rolls, strawberries & cottage cheese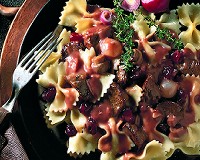 Tuesday: Golden French Toast, Bacon, Applesauce
Wednesday: Honeyed chicken, Broccoli/Rice mix, Colorful Corn
Thursday: Pineapple Ham Casserole, Salad, Biscuits
Friday: Oriental Noodle Toss, Green Beans, Baked Peaches
Saturday: Lasagna Sandwiches, Tomato Soup
happy eating everyone!