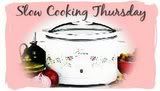 A terrible thing happened in our household this past week. A really true tragedy. My best friend in the kitchen, finally kicked the bucket......Yes, my trusty slow cooker has died. It was a long time coming, as evidenced by these pictures.
Notice the stains and general worn out appearance...
Here you can see the broken handle which is just barely hanging on...
Here you can see the final straw---the handle on the top of the lid just snapped off! ( What you can't see is the big crack on the inside)
So, it is time to bid it farewell and clear out a space on the shelf for the bigger, shinier, classier model that came home from the store with me last night! There is some yummy chili in it in this picture--which just happens to be our dinner tonight.
The recipe I am sharing is from the booklet that came with the new one--we haven't tried it, but maybe next week we will. It looks yummy.
Chicken Barbecue
*1 medium onion

*1/2 lemon, sliced & seeded

* 6 skinned chicken breast halves
* 1 (18ounce) bottle of thick barbecue sauce
*1/2 cup cola-flavored beverage

* 1/4 cup all purpose flour

*1/4 cup water


Place onion and lemon slices in a 3.5 or 4 quart slow cooker. Add chicken. Combine bbq sauce and cola; pour over chicken. Cover and cook on high 3.5 -4 hours , or cook on high 1 hour and then reduce to low for 6 hours. Remove chicken to a serving platter, reserving sauce in cooker, but discarding lemon. Combine four and water, stirring until smooth; stir into sauce in cooker. Cook on high 10 minutes or until sauce is thickened, stirring twice. Spoon sauce over chicken Yield: 6 servings


For more yummy recipes visit Sandra..