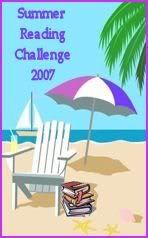 De'Etta over at
Choosing Joy
is hosting a Summer Reading Challenge. I am registering too late to get in to the Amazon gift certificate drawing, but no matter. I love anything to do with books---reading them, critiquing them, finding more of them, recommending them...ect... ect...ect......you get the drift!
Sooo....I have posted my summer picks on my sidebar under the button and at the end of this entry.

Disclaimer
: All books on the list are subject to being booted off/replaced by other choices if the mood arises! :) I have over 100 books on my to be read shelf so the choices seem to be limitless around here. My goal is to read at least 5 books in June, 5 in July and 5 in August. I have no other lofty goals and no heavy reads on the list. This is summer reading---and to me that is light, fun and escapism at it's best!
Here are my picks for now:
The Mercy of Thin Air
The Whole World Over
Mostly True: A Memoir of Family, Food, and Baseball
The Woman Who Painted Her Dreams
Keeping Up With Magda
A Certain Slant of Light
A Woman in Berlin
Beyond the Narrow Gate
War Brides
Happy Reading and a Glorious Summer to everyone!