Well, we are home again and have no plans in the immediate future to take anymore trips! We didn't get home from Spokane until 9:00 p.m. last night (Sunday) and it was a rush to get unpacked, ready for work today and then bed! We did have a wonderful time this weekend and I wish it could have lasted a bit longer.
We left home on Thursday morning and headed east. We stopped at a family water park (in Moses Lake) which is just a little past the 1/2 point on our trip. The temps were in the '90s so it was a great place to spend most of the day. The boys had fun in and out of the water and I had fun lounging on a chaise lounge reading.
Water fun!
Sam on the high dive! Where does he get the guts????
Austen on the high dive---more nervous than Sam!!!
Under the water cascading off the big mushroom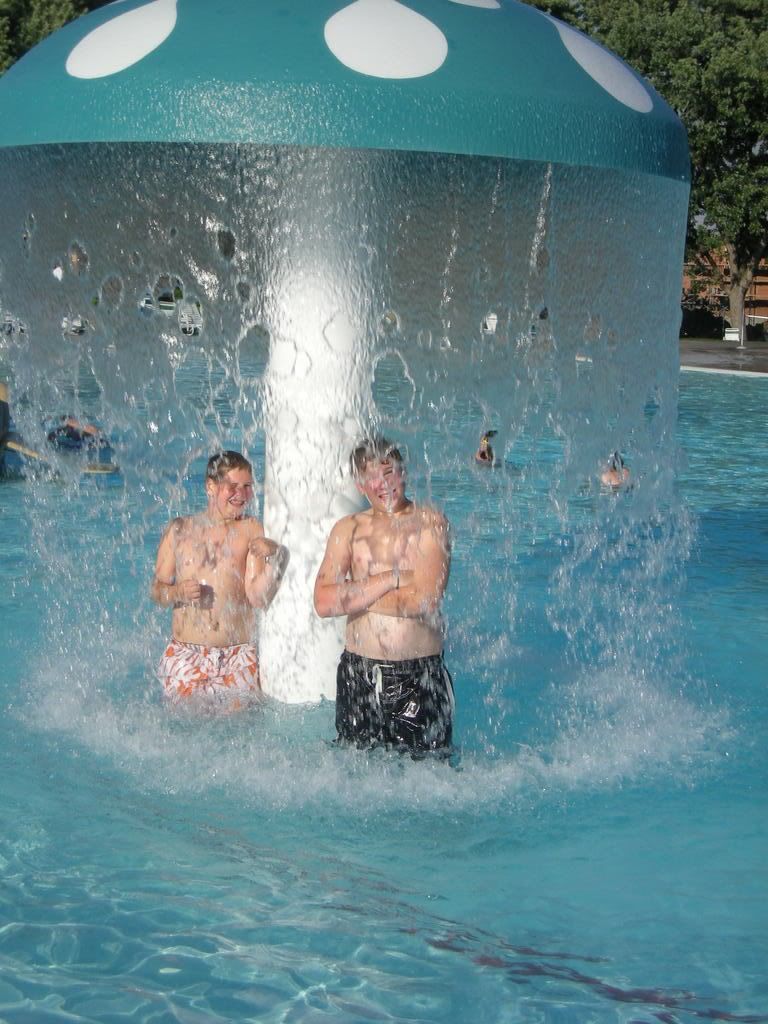 Just goofing around in the kiddie area...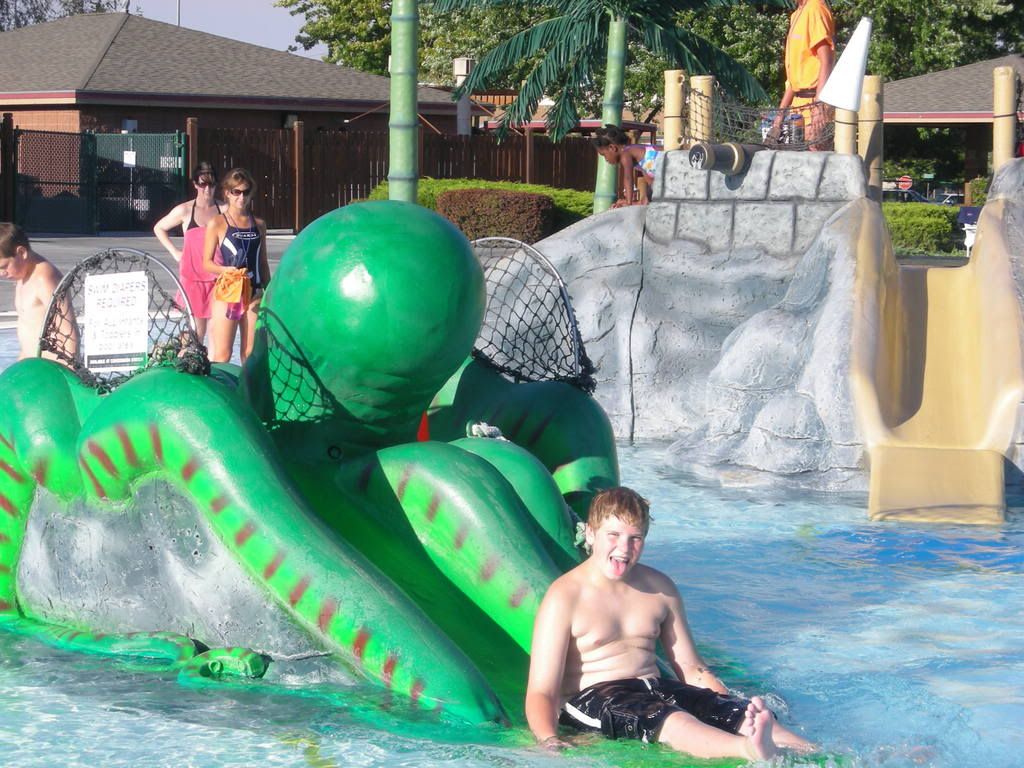 Reading time! Kerry deeply engrossed in Harry Potter #6 ....desperately trying to get to book 7!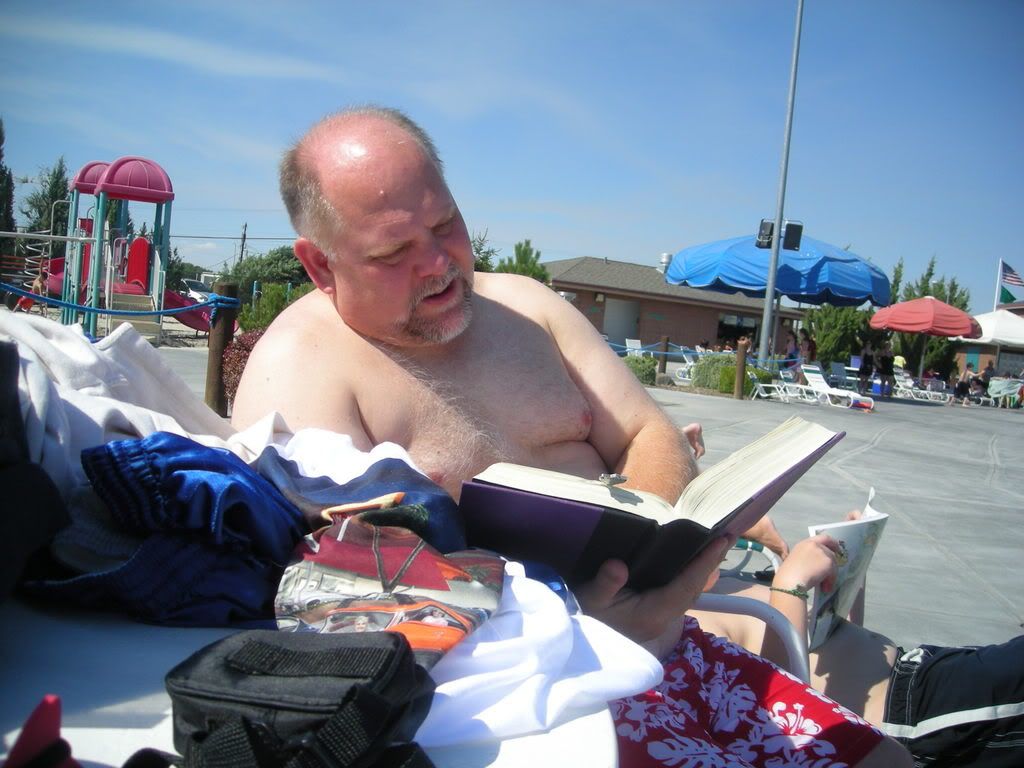 Sam engrossed in the Redwall series.....
Mom taking a break from reading--just hamming it up here...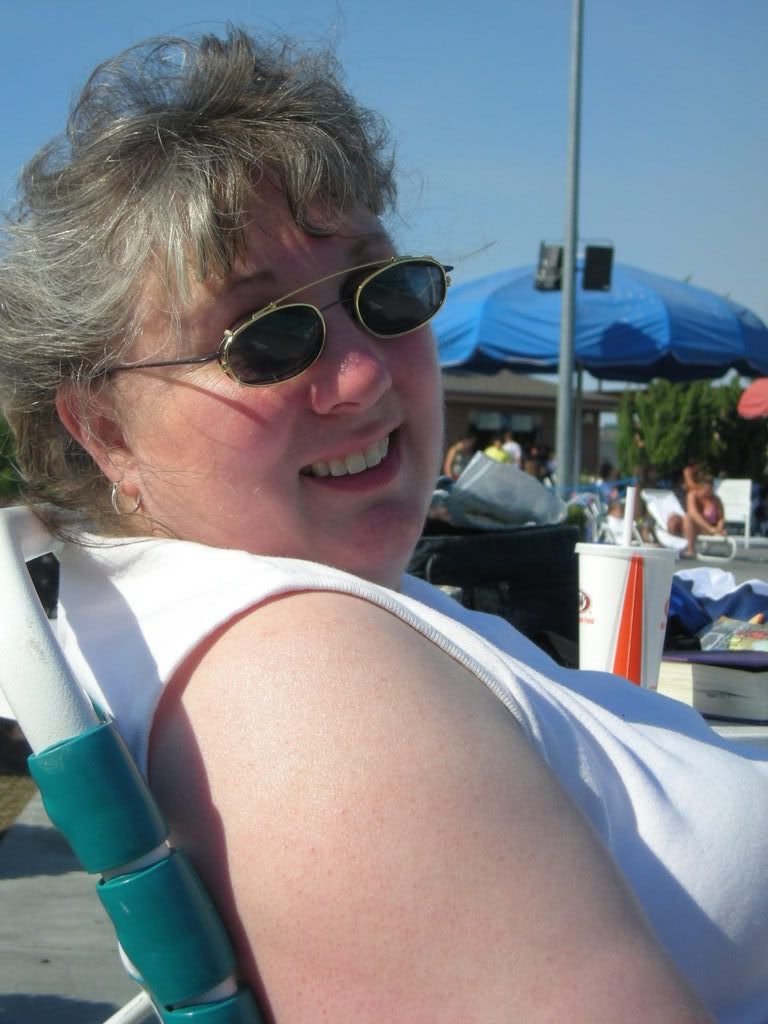 Austen our literary genius, reading none other than: Calvin and Hobbs!!!
Man! I love these boys!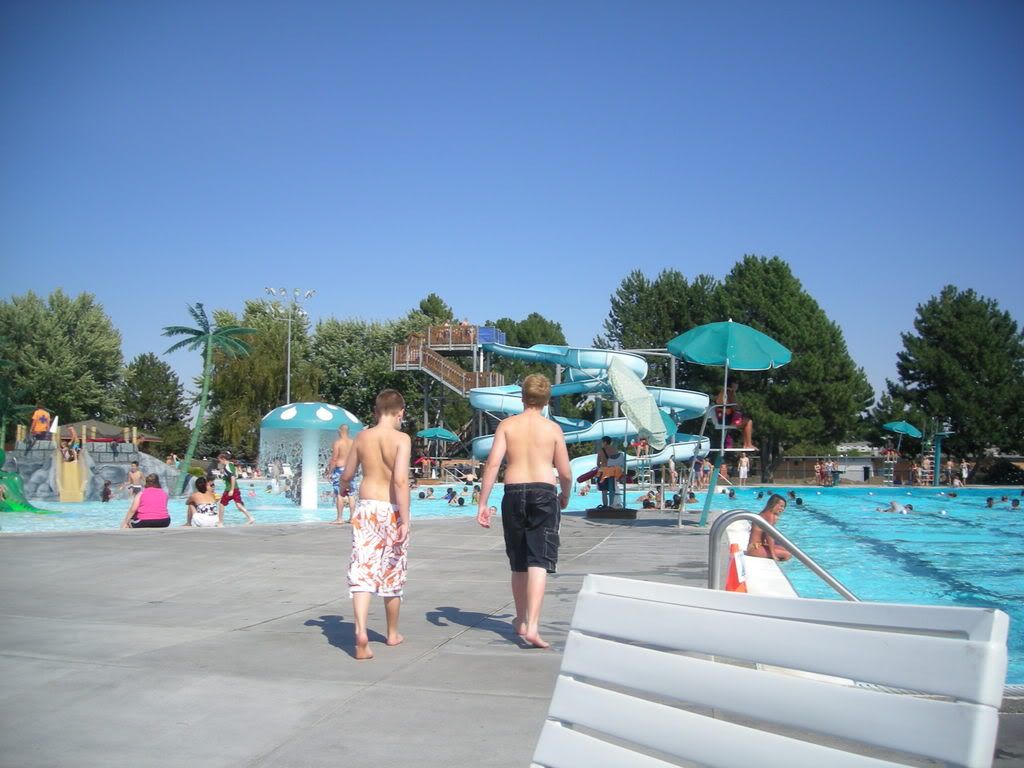 Friday we spent the day shopping and exploring the strip around our hotel. We found a lovely new/and used book store where I purchased a couple of new books, because as any of you who visit my blog on a regular basis know, I have a REAL shortage of books! LOL!!
This last one is pure chick-lit! I have started it already and it is pretty fluffy--kind of fun after the last couple of novels I have finished!
Then we headed over to a great mall, originally to see a movie. Well, my men saw a movie, but I begged out when I saw the store of my dreams.
This store is now my most favorite clothing store in the world. The clothes fit me, were classy, had waistbands on the pants that covered my hind end, shirts that are long enough to cover my stomach, were easy to match up into outfits and best of all....there were racks and racks of *sale* items!!!!! Kerry gave me a spending limit and set me loose. It was glorious. I haven't bought that many new clothing items at one time in I don't know how long. Most of what I bought will be perfect for work and other semi-casual occasions. Thank you, honey! :)
My boys discovered the wonders of a new store too--Steve and Barry's! Great quality clothes at oh-so affordable prices! Have you heard of this chain? Here is their mission statement:
Steve & Barry's® is about change. It's about changing the way that consumers shop for their clothes and changing the way that retailers cater to them. Steve & Barry's is about stripping away the gloss and giving consumers something real. The fact is that great clothing doesn't really have to cost that much. It's a simple idea, but also a big idea—big enough, that is, to turn the industry on its ear. By delivering on our promise to provide premium apparel at impossibly low prices, Steve & Barry's is single-handedly changing the retail landscape. We're busting the model. Steve & Barry's significantly impacts whole communities, rejiggers shopping patterns, alters local economies, and sometimes even changes lives for the better.

We also took a drive about an hour northeast of Spokane to look at a small town we had heard of. We keep thinking we will move to that area, but the timing just isn't right yet. The town was WAY too small for us, but there was an adorable little stitchery shop and I made a few purchases there too--she had a ton of things on sale for $1. I will share those items tomorrow.
Saturday was the wedding and what can I say? It was sweet, simple and the bride was beautiful. Here are some shots of the cake, (which the bride's aunt stayed up until 2 a.m. the night before finishing, the bride, and my daughter Sarah who was a bridesmaid and her husband Jesse who is the brother of the bride and a groomsman.
Here comes the beautiful bride, Holly....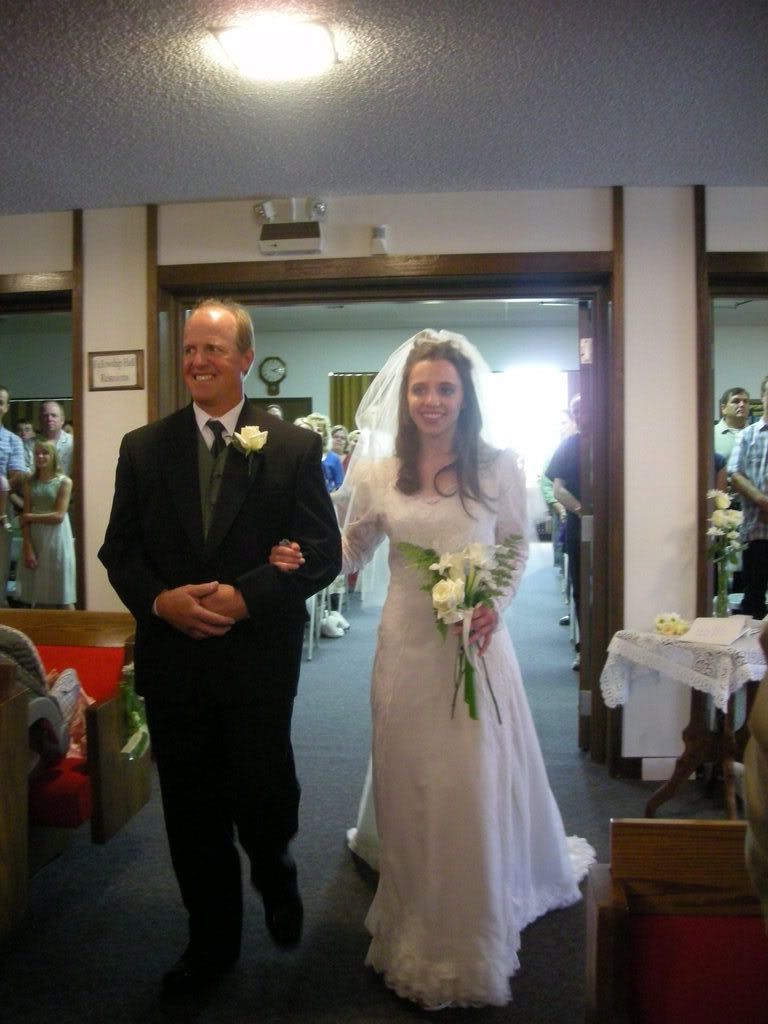 The Cake......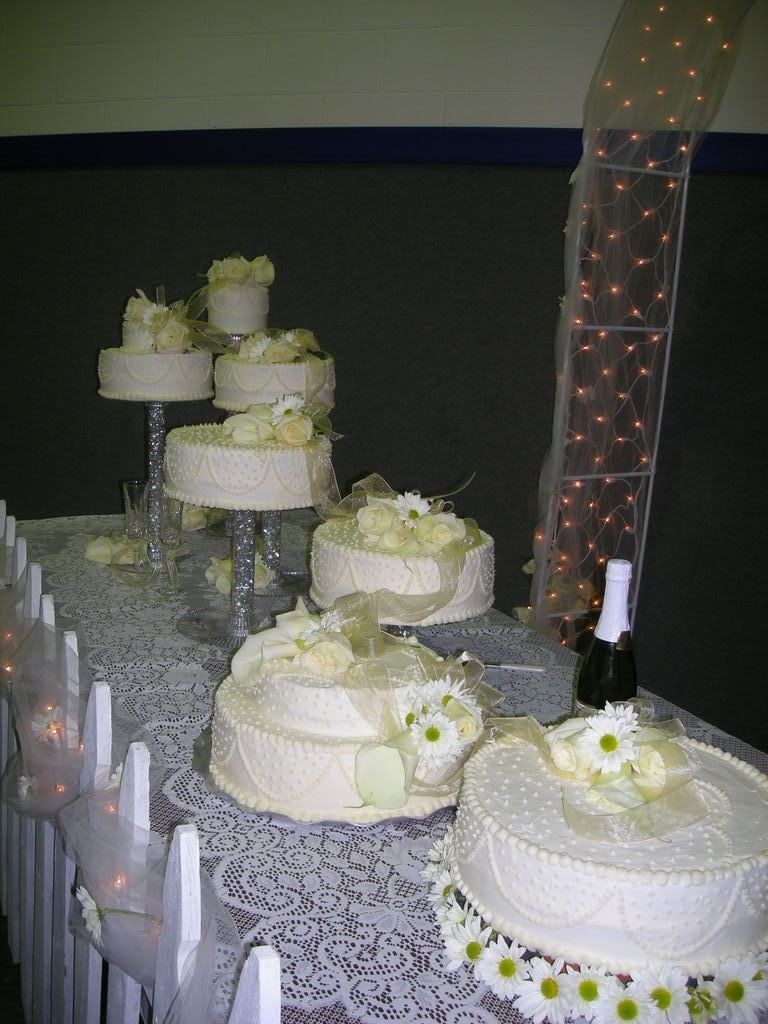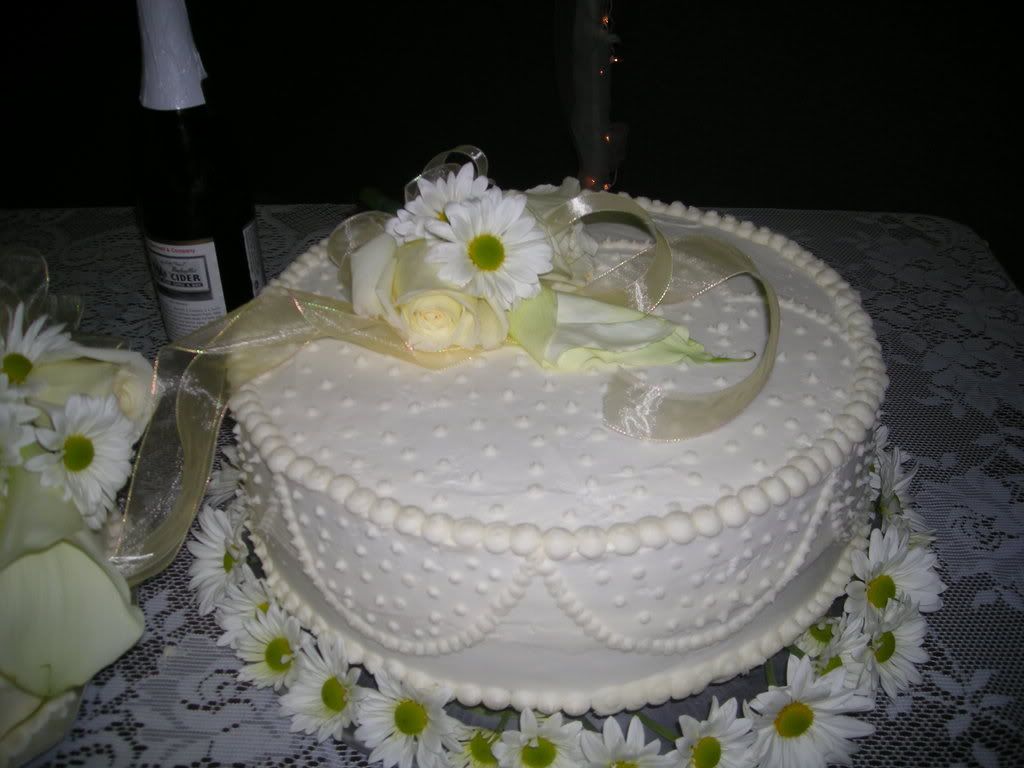 My boys--who have decided they have attended enough weddings to last them a lifetime over the past couple of years!
My Sarah and her Jesse!
Kerry and I.....
I just thought this shot was too sweet not to share!
More tomorrow--I might even have time to show off my little cross-stitch finds from that cute little needlework shop we found in tiny little Newport Washington. I have no menu plan to share this week--next week it might be filled with a ton of Weight Watcher friendly recipes as I am planning on re-joining in the next couple of weeks. I need to get serious and get some of this weight off, and WW is the only thing that ever works for me....sigh....