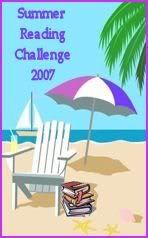 Well..the
summer reading challenge
has come to an end and it is time to post about it. Did I succeed? I guess it depends on your definition of succeed! My goal was to read 5 books a month, June-August, which I did not manage to do, but I did manage to read! Which according to
Stacey
, many Americans cannot manage!
Here is what I was planning to read :
1. The Mercy of Thin Air
2. The Whole World Over
3. Mostly True: A Memoir of Family, Food, and Baseball
4. The Woman Who Painted Her Dreams
5. A Certain Slant of Light
6. A Woman in Berlin
7. Beyond the Narrow Gate
8. War Brides
9. Song of Survival: women interned
What I actually read:
1. A Good Distance/ well written, very sad at times as it deals with a young woman taking care of her mother who is afflicted with alzheimers.
2. Astonishing Splashes of Color/ very well written story of a young girl suffering from bi-polar disorder and how it affects her life---the plot had me guessing until the end.
3. Bed Rest/ so-so story of a young self absorbed woman put on bed rest during her pregnancy. Definitely chick-lit!
4. Dream When You're Feeling Blue/ Loved this story set during WWII about 3 sisters-what the war means to them as they wrestle with love, honor and civic duty.
5. Dress Rehearsal/ Very fluffy chick-lit about a young woman trying to figure out what love is as she runs her designer wedding cake boutique.
6. Keeping Up With Magda/ not a favorite of mine by this author (Isla Dewar)-story set in Scotland--kind of rough language, boring characters, boring plot line.
7. Lisa and Lottie/cute child's book which the movie Parent Trap was taken from.
8. One Tattered Angel/Beautiful true story of a couple who adopt a tiny baby who has only a small part of her brain---very sweet.
9. Ruby/ like it! Story of a young widow and her friendship with Ruby, a young pregnant teenager. The story takes you through many stages of grief and healing of both main characters.
10. There Is A (Slight) Chance I Might Be Going To Hell/funny but raw at times story set in the northwest--what can I say? Laurie Notaro can make me laugh out loud at times,but read at your own risk!
11. We Are All Welcome Here/ beautiful story of a young girl on the cusp of adolescence duing the '60s with a mom who is paralyzed by polio.
12. Whistling In The Dark/ Very gripping story told through the eyes of a 10 year old girl of a summer when her mom is in the hospital and those who were supposed to be watching her and her sister fail to do so. She is sure that the man who she thinks murdered two girls in her neighborhood is going to make her the next victim. Well written--kept me guessing until the end.
13. Wives Behaving Badly/Sequel to Revenge of the Middle- Aged Woman. I liked the first one better. The main character is so terribly whiny that it is hard to care what happens to her.
So, there you have it. I am gearing up to join another challenge in January which will encourage me to read more memoirs, biographies and autobiographies.
Happy Reading!