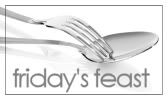 Appetizer
Who was the last person you hugged?
My son Sam. He is my lovey one.

Soup
Share a beauty or grooming trick or tip with us.
Oil of Olay and old fashioned Noxzema. I get compliments on my skin all the time!

Salad
What does the color yellow make you think of?
Sunshine and rain slickers

Main Course
If you were to make your living as a photographer, what subject would your pictures revolve around?
Well, I would have to say my kids! And maybe nature scenes....

Dessert
What was the longest book you ever read?
I have no idea. I have read so many books in my life and I haven't been a big page counter
.
more feasts
here!