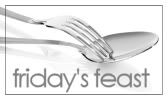 Appetizer
If you could be any current celebrity for one whole week, who would you want to be?
Hmmm....I am not a big fan of the whole celebrity lifestyle so I can't really think of anyone.

Soup
On a scale of 1-10 (with 10 being highest), how much do you enjoy talking on the phone?
I would say maybe an 8--especially if I can multi-task while doing it!

Salad
Name a charitable organization to which you have donated (or would like to).
Focus on the Family, Campus Crusade and our church!

Main Course
What is a food you like so much you could eat it every single day for a month?
Hands down.....Pasta!!! Any kind of pasta with anything on it!

Dessert
Have you or anyone in your family had the flu this year?
Oh, thank goodness no! We all got flu shots and even though they are saying the shot this year didn't guard against the flu so well that is going around here, I do think it did keep us well. The flu bug has been flying around the schools and where I work.

Visit
feast headquarters
to join in the fun!