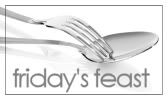 Appetizer
What does the color dark green make you think of?
Spring! Sprouting leaves and growing grass. Also, Saint Patrick's Day.

Soup
How many cousins do you have?
I grew up thinking I only had 3 cousins. Then, about 8 years ago, my aunt and uncles daughter, given up at birth, found them! So, even though I still have yet to meet her, I guess I could say 4 now!

Salad
On a scale of 1 to 10 with 10 being highest, how honest are you?
I think I would have to say a 9.

Main Course
Name something that is truly free.
God's saving grace!!

Dessert
Using the letters in the word SPRING, write a sentence.
Springing perennials run in nosegays gaily!
(very lame, I know. But hey, I am still sick!)
more feasts can be found at the headquarters,
here