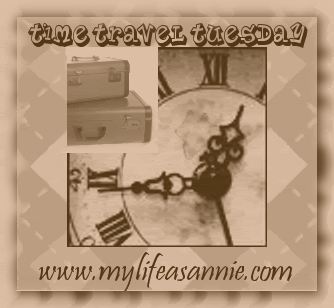 Travel back to grandmother's (or aunt… or ?) house.
What are the smells you remember walking in when you were young?
What are things you remember seeing every time you were there?
Any special things you always did with or at grandmother's house?
I am late jumping on the time machine this week, but thought better late than never!


I grew up with two sets of grandparents, but I will write about my dad's mom in this post. I posted her wedding picture here, last summer. Grandma Aeline lived in Aberdeen Washington--about a 25 minute drive away from the Washington coast. One of the things we ALWAYS did when we visited was take a trip to the beach. I remember a few times being woken up when it was still dark to go clam digging at low tide! There was always a thermos of coffee in the car and donuts! Sometimes if we went later in the day, we would pick up Kentucky Fried Chicken on the way home for dinner--something we almost never did at home.

She was a big fan of Red Rose Tea and always had a collection of the little Wade china animals that came in those boxes of tea, lined up on her kitchen window sill. She would let each of us pick one to bring home. I wish I still had those original ones!


The garage to their house was in the back, so we had to drive by the front of the house and turn into the alley to park. As we drove by the front window we could always see the back of Grandma's white head as she sat in her chair by the window where she knitted. When I was in high school, she had open heart surgery and suffered a small stroke afterwards. Her memory and speech was never quite the same, but she could still work on her needlework. One of my greatest regrets is that she was never able to teach me the lost art of tatting.

Grandma always had root beer--a treat we never got at home. Their house had an attic with steep spooky stairs and a very old kind of smell, but I loved to go up there and imagine what it was like for my dad, whose bedroom growing up was up there. There was another room where Grandpa kept his piles and piles and piles of newspaper and magazine clippings, along with his scrapbooks and movie films. But best of all, were the very old issues of National Geographic and Reader's Digest!

Grandma had the most beautiful silky white hair--by the age of 30, I am told. She had some beautiful amethyst jewelry along with some other valuable things that I loved to look at in her jewelry box. My aunt got all of that stuff when Grandma passed away. Grandma needle pointed, knitted, crocheted and tatted. She also studied to be a concert pianist in Chicago during the 1920's and had a baby grand piano in her house all the years they lived in Aberdeen. She used to tell stories about the gangsters and shootings from back then. Quite a fast life for a upper class daughter of a banker! Something I didn't know until I was an adult was that her real name was Gladys Aeline.




Here she is looking on, as my great grandmother, her mother, holds baby me!
I was the first great grandchild and first grandchild on both sides of my family.

Here she is holding my daughter, Sarah, the first grandchild of my parents and first great grandchild for my grandmother.
This last picture cracks me up....my parents had left my sister and I with my grandparents for a week while they took a vacation. Grandma decided to cut my hair and then realized my mom might get mad--so she curled it, hoping to make it look cuter! She was right....my mom was not real happy!!


After she passed away, in 1992, too late I realized all the things I did not know about her and now could never ask her. She lived to be 86 years old--that is a lot of life lived.
Thanks
Annie
for hosting TTT!