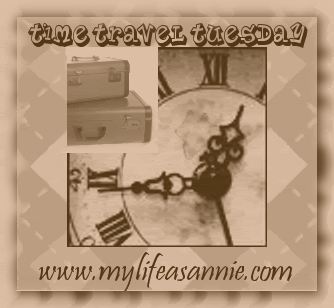 This week's Time Travel question is about any cooking mishaps!
There are two incidents which pop right out right when I think of the words, cooking mishap. The first one involves strawberry shortcake, biscuits, and my new in-laws. The first spring we were married I decided to make homemade biscuits to serve strawberries over. I also thought it would be nice to invite my husband's parents over to have this dessert with us. I served my husband and father-in-law who were sitting in the living room visiting, and then returned to the kitchen where my mother-in-law was. All of a sudden I could hear snickering coming from the living room and when I went to investigate, I was horrified to find out that my biscuits were so hard that they were laughing because they would need a knife to cut into them!!! I did not attempt homemade biscuits for many many years after that!
The second incident is one that my husband will not let my forget, even after 25 years of marriage! I was baking something, and being a newlywed at the time, quite a recipe follower to the last detail. I was debating which pan to pour the batter in, and was a bit confused. So I yelled out to Kerry, "Honey, is a 9x13 pan the same as a 13x9??" LOL! I thought he would bust a seam laughing at me.
So, you have any cooking mishaps? Hop on over to
Annies,
sign mr. linky and share with the rest of us!