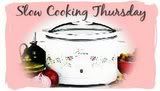 This is a new recipe for me but it sounds really good!
*Beefy Mac*
~1.5 pounds ground beef
~1 1.6-ounce beef stew seasoning mix
~2 cups grated cheese (8 oz)
~1 11oz can kernel corn
~1 10 oz can cheddar cheese soup
~1/2 cup chopped onion
~1/2 cup beef broth
~12 oz dried elbow macaroni
1. Cook ground beef and stew seasoning mix in large skillet until beef is brown. Drain off fat. combine beef mixture, 1.5 cups of the cheese, the corn, soup, onion, and beef broth in slow cooker.
2. Cover; cook on low setting for 6-8 hours or on high for 3-4 hours.
3. Cook macaroni according ot package directions; drain. Stir pasta into the beef mixture; sprinkle with the remaining cheese. Makes 8 servings.
***note*** I will have the following garnishes on the table: fresh chopped tomatoes, olives and maybe some chopped avocado.


Happy Dining! Slow Cooker Thursday is brought to you by:
Diary of a SAHM